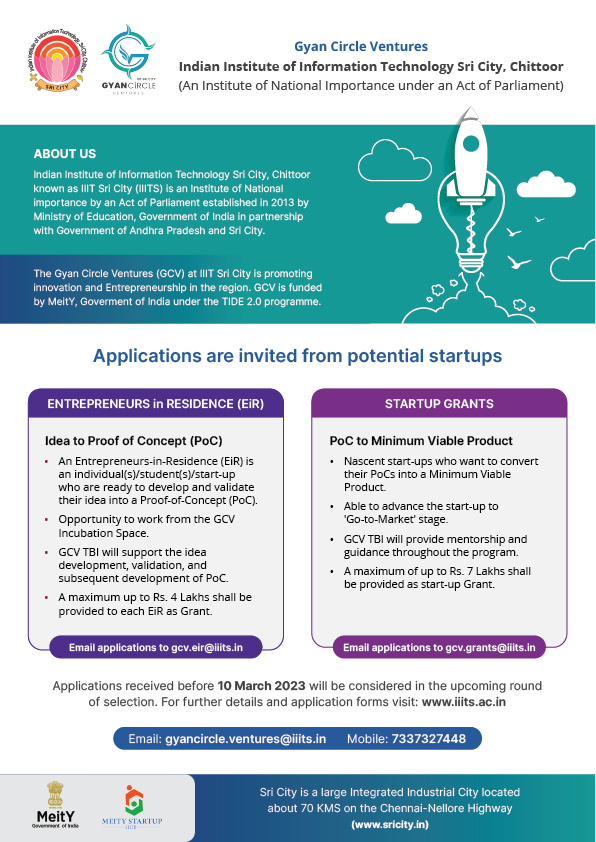 Applications received on or before 10th March 2023 will be considered in the first round of shortlisting. Applications received after the above date will be considered based on availability of funds.
We are opening up applications for potential candidates for two programs, as part of our operation as TIDE 2.0 Group 2 center
EiR - Entrepreneurs in Residence
An Entrepreneurs-in-Residence (EiR) is an individual(s)/ student(s)/ start-up who are ready to develop and validate their idea into a Proof-of-Concept (POC).
They will work from GCV incubator space.
GCV TBI will support the idea development, validation, and subsequent development of POC.
A maximum up to Rs. 4 Lakhs will be provided to each EiR as Grant.
Email id for submitting applications for EiR: gcv.eir@iiits.in
Grants
Nascent start-ups with a definite Proof-of-Concept can be considered eligible for the grant. The grant is provided to create a Minimum Viable Product and to advance the start-up till Go-to-market stage.
A maximum of up to Rs. 7 Lakhs may be provided to each start-up as Grant.
GCV TBI will provide mentorship and guidance throughout the program.
Email id for submitting applications for Grants: gcv.grants@iiits.in