Placements at IIIT Sri City
At Indian Institute of Information Technology Sri City (IIITS), a structured and systematic effort for placements and training is present with a group of faculty members, staff, and students under the leadership of the Director. IIITS considers the career of its students as one of the most important priorities of the institute, and prepares its students starting from the year the student joins the campus. We have been shaping this career building through a rigorous and futuristic curriculum that prepares students for working in startups where new and innovative solutions to problems have been offered. Below, we narrate the students' journeys at the institute highlighting how students learn and garner the required skills for jobs during their stay at the institute.
The importance that we give to placements is evident when we encourage internships right from the first year; this enhances the students' understanding to take up the career of their expertise and choice.
During the first semester, students are taught Computer Programming in small groups and the faculty train intensively that small set of students (from the total population); such close attention to students enables faculty to address variability in student's learning capability. In the second semester, irrespective of the BTech discipline (CSE /ECE), students learn the fundamental courses for programming including Data Structures and Algorithms etc.
The Computer Science and Engineering students in their second year enter into a Full Stack Development stream with three sets of courses. In the first course, students learn how to build web applications (as course projects) for various real-life case studies using state-of-the-art technologies. In the second and third course, students take those web application projects to advanced levels in building service oriented architectures and finally complete the FSD stream with enterprise ready projects addressing the scalability, performance, and robustness of the web applications built.
In the third year, students choose Specializations based on their preference to sharpen their skill sets based on the current needs of the industry, for example, Artificial Intelligence and Machine Learning, Data Science and Analytics, Cyber Security, Cyber Physical Systems, Nextgen Wireless Communications, and others. Some of these courses are jointly delivered by industry practitioners enriching the students' experience with current trends and case studies used in the industry.
We also place an emphasis on developing graduates with specialized competencies and skills to take up pivotal roles in Startups. In addition to preparing the students for various job sectors, IIITS curriculum also caters to students who are inclined towards starting their own companies with courses such as Entrepreneurs and Startups and Small Business Management; students also understand the environment in startups (apart from learning how to build their own). Further, to support innovative startups from students, IIITS has launched the Technology Business Incubator, Gyan Circle Ventures with initial funding from the Ministry of Electronics and Information Technology (MeitY), Government of India.
Finally, before the companies visit the campus for placements, students polish their soft skills with courses such as Aptitude and Reasoning, Advanced Communications Skills, and Competitive Programming. It is worth mentioning that Communication Skills is being taught as a set of four courses in the first two years to bring students to the required levels in reading, writing, listening, and speaking.
Third year students also secure summer internships, where typically students from tier-1 institutes of the country get internships; and students are encouraged to take long-term internships to improve their chances of recruitment at those dream companies. Our students have won several competitions such as Microsoft AI challenge, Google Android Hackathon, Runner ups at Smart India Hackathon and being in the top 10 in Amdocs Hackathon. This year, five of our students have qualified for Google Summer of Code.
Our last five batches of students have launched their careers in a variety of organizations, especially in emerging technology areas. The companies that visited the campus for recruitment not only hired both the CSE and ECE batch students but the companies were also from varied categories: multinational companies, successful startups, cutting-edge technologies computer science companies, and core ECE companies. Some of our multinational recruiters represented industries ranging across Consulting, E-Commerce, Hi-Tech, Hospitality, and Health Care. Microsoft, Amazon, Google, TCS, IBM, HP, Swiggy, Grofers are some of the multinational companies where our students are currently placed.
A representative list of the companies that visited for placements and internships are exhibited below.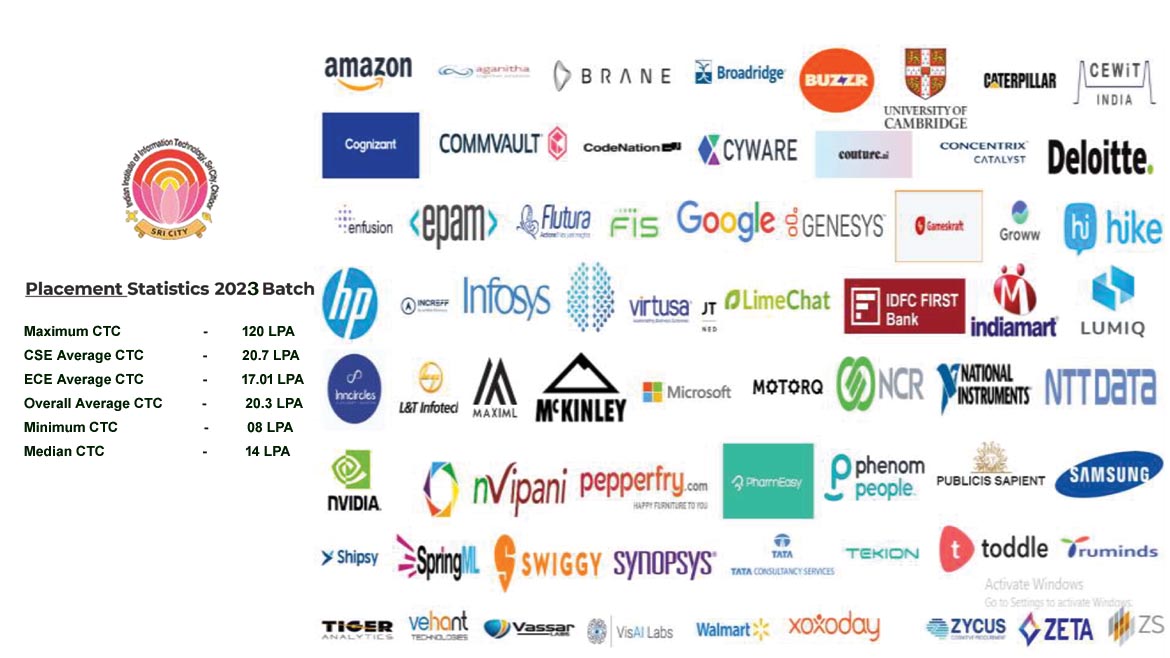 Our continued efforts have led to the development of highly industry-ready graduates. As detailed earlier, since the curriculum is fast paced and up to date with developments in technology, contributing to new ventures comes as an inherent skill to our students. Our students are proving to be a valuable addition to organizations that are looking for well-educated and competent fresh engineering students. The number of companies that have visited our campus has been steadily increasing. We believe this is a reflection of the quality of our students and of the education and orientation they have received at the institute.
Recruiting companies can contact the below placement team for full time placement opportunities and internships from the institute.
Placement Team: