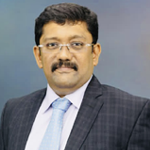 Shri M Balasubramaniam (Bala MS)
Board Director & Digital Transformation Leader
Chief Executive Officer, StratInfinity Inc
Bala is a seasoned business & technology leader with a great track record of Building Organizational capability and creating value through technology enabled business transformation with proven Expertise & Leadership in devising and effectuating policies aimed at building and managing multinational Captive's - Global Capability Centers in Banking, Financial Services, Insurance, Software Development, Telecom, Higher Education functions and successfully managed multiple Merger & Acquisitions and Joint ventures globally in the field of technology centers of BFSI and Higher Education functions.
Bala is having two decades of experience in the IT industry; and worked with multiple MNC including Citibank, Polaris, Dun & Bradstreet USA, TransUnion USA. Bala was a founder Director of HigherOne India NYSE listed financial service company and Founder Managing Director of Blackboard, a world's largest education technology company serving 120 million students covering 20000+ Universities across 90 countries in the world, Managing the R&D Center in India responsible for Product development using exponential technology. Bala was instrumental in building the CIBIL (Indian Credit Bureau) and the Credit Bureau of Sri Lanka, Egypt, UAE- Dubai and Nigeria. He is a successful transformational leader in building technology and product engineering centers in India to the global organizations.
Presently Bala is Founder & CEO, STRATINFINITY INC, a global business consulting & technology advisory company in USA, UK & India. Apart from this Bala is a Board Director & Advisor at Changepond Technologies Pvt Ltd., Techinnovations, Thinkinfinity Inc & FIIANALYTICS and few other Deep tech start-ups. Bala focus and play a vital role in building the start-up ecosystem especially in the area of Fintech, Ed-Tech, Agritech and Health care tech, that are aligned with Sustainable Development Goals of UN (SDG).
Apart from the professional accomplishments above, Bala was instrumental in the Technology Initiatives of Govt of Tamilnadu and building the Tech Captive Global company eco system in the State of Tamilnadu. Bala played key role in various technology Initiatives of Tamil Nadu Police department. Bala works closely with Ministry of Education & MeITY, Government of India on multiple assignments on an honorary and advisory role including the following:
Former Chairman of NASSCOM GCC council & Member of GCC National Council of NASSCOM.
Executive Committee Member, CDE – Anna University, Chennai.
Board Director, Center for Innovation and Entrepreneurship Development (CIEDI) by MeITY, Govt of India.
Convenor, Skill Development & Start up, FICCI TN.
National Board of Advisor, MSME & Startup Forum- Bharat.
Member Board of Studies, Ramanujam Institute of Mathematics, University of Madras.
Bala was a Senate member at Madurai Kamarajar University., appointed by His Excellency Governor of Tamilnadu.
National Cyber Security and HR committee member of AMCHAM (2015-2020).
Committee Member, HR, Education & Skills Development, CII – TN Region (2016-2019)
Apart from his Graduation and Post-Graduation in Management from Madras University, he has also an alumnus from IIM-Kolkata, PG in AI/ML from University of Texas and Executive Program in Global Mergers &. Acquisitions from Imperial College of London. His areas of interest and continuous learnings includes Metaverse, Web 3.0 and Industry 4.0 and he is passionate towards building the Industry-Academia collaboration that paves way for Outcome Based Education.
His areas of interest include all cutting-edge technologies including Artificial Intelligence, Machine Learning, Block Chain and Data Analytics and passionate towards building the Industry-Academia collaboration that paves way for Outcome Based Education; nurturing economic, scientific and cultural relations between organizations in different countries by setting up new Captive center (R&D) and any initiative to raise the world's digital society.