Memorandum of Understanding
This Memorandum of understanding (MoU) is signed between The Art of Living (representd by Vyakti Vikas Kendra India) and IIIT, Sri City, Chittor on Saturday 07 th December 2019 at the NITTTR Campus.
Through this MoU, both institutions have entered in partnership to build a socially responsible, value-based, positive and inclusive community of students, management and faculty at IIIT Sri City through mutually agreed curricular and co-curricular initiatives and programs offered by the Art of Living with the following objectives: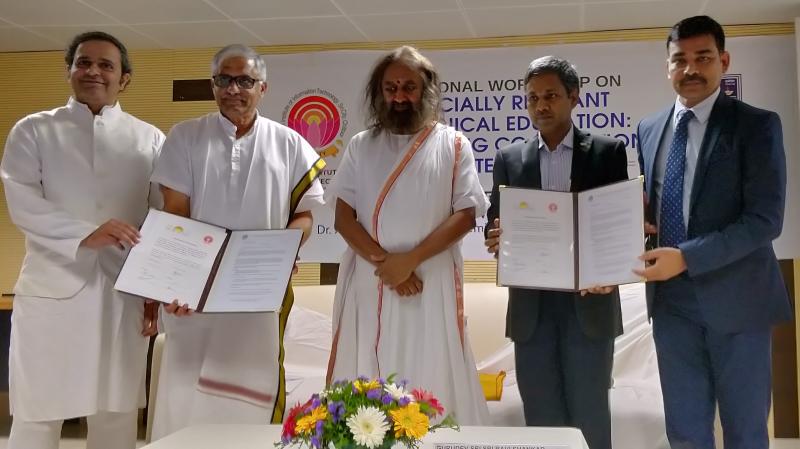 For Students
To equip students with life skills (as defined by WHO and UNICEF) which are vital to effectively tackle the challenges of the 21st century and to bring about attitudinal and behavioral change.
To equip students with practical tools and techniques that will make them more creative, efficient, confident, clear-minded, stress-free, joyful and energetic.
To empower students with soft skills such as interpersonal relations, decision- making, time management, team skills, communication and leadership, which raises the employability factor.
To enhance the students' mental and physical prowess - concentration, focus, overall health and fitness; make them more dynamic, innovative and entrepreneurial in nature
To instill human values, ethics, moral values and integrity amongst the students.
To instill the spirit of volunteerism and patriotism and to provide the students a platform for engaging in service through music, dance, sports, art, drama, culinary, debates etc.
To assist students come out of depression, suicidal tendencies, addictions, anger, aggression, violent tendencies, anxiety and fear.
For Management and Faculty
To increase efficiency, productivity and motivation of faculty through capacity building.
To have a positive attitude and the ability to cope with the changing environments.
To maintain and enhance faculty effectiveness by inculcating dynamism and leadership qualities.
Managing workplace stress effectively and achieve clarity of mind for better decision making
To improve teacher-student relationships by enhancing communication and soft skills of the faculty by introducing innovative teaching methodologies and developing an interpersonal connection with students.
To develop commitment and ethical approach towards work, and instill a sense of responsibility towards the institution.